2020 has been a year. We're halfway through. In my opinion though, every month has out-ghettoed or finessed the previous one. I'm putting into the universe and praying to God that it is going get better. Life has not stopped though. In the midst of COVID, people have graduated, started new jobs or businesses, started new hobbies or even just started healing. I. AM. PROUD. No seriously, I finished my first year of teaching and had to clap for myself. So if you're reading this, no matter what positive milestone you have accomplished, I am BEYOND proud of you.
Many people have decided to pursue additional educational training and I am here to tell you that graduate school is difficult, especially if you have other responsibilities on top of completing school work. If had responsibilities during your undergraduate journey, I am not knocking the hard work you put in. But graduate school is wired differently. So differently that I have found a couple of things to be helpful during my program.
Talk you content and talk it often.
I am getting my Master's in Communication and I have seen that I remember more when I can talk about it in casual conversations or layman terms. You might be saying "it's not easy talk about advanced STEM subjects in normal conversations". Well it can be a lot easier than you think. I realize that when little kids (or even teenagers) want to know what you're doing, giving them a simple understanding of your learning can makes you more of an understandable expert.
Find an accountability group (or person) even if they are not in your area of study.
Teachers talk shop often and one practice that helped me was talking shop but about school. A few of my colleagues are in graduate school for Curriculum and Instruction, Administration and other disciplines. One thing we do while checking in is talk about the interesting things we've studied so far. I usually talk about how much better people or organizations, especially the school system, can do when it comes to communications. It is usually great to hear a common subject even in different focus areas.
Practice intentional planning
It is extremely easy to forget your assignments, especially if you are in a rut. One thing I've done is spread out my assignment so I can stop looking at the overwhelming syllabus while also making my due dates more manageable. I used my iPhone reminders app to do certain things on certain days at certain times. This way I know exactly what I'm doing and I push the assignments apart so I can take frequent breaks.
Take breaks and don't feel bad about it.
Being in an online program has me staring at my computer screen more than I really want to. I take breaks, maybe like 5 major ones, throughout the day so that my eyes can get break, my mind gets some clarity and my Apple Watch stops telling me to move. Taking breaks is good for your sanity. Black Wall Street wasn't built in a day.
It's so easy to get bogged down about how much you have not done. But I want to tell you, CELEBRATE! This is no easy feat you're doing okay. Take time to celebrate the good.
Now to all my Black people, we do this okay.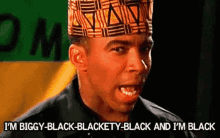 Sometimes, we feel like we have to shrink ourselves in order to fit into a new reality. Let me tell you something: your reality is whatever you want it to be. I want you to be successful and be your most authentic self. A few things I've learned
Talk about your experience to your comfort level
I have typed then deleted so many discussion posts because I thought they would not be deemed acceptable. However, I realized in my second semester that my experiences matter, especially if they are in the minority. It is real easy to just say what would be considered "acceptable". Screw that and write what you feel in your heart and within academic guidelines (I want you to get all your credit).
Challenging or stretching viewpoints should not equal disrespectful or discriminatory actions or behavior.
In one of my recent discussions focused on objective moral truth, I wrote:
The part that makes this so hard for me to decide if objective moral values exist is "which are morally good independent of the of human beings". When I think about that, my mind goes to the civil unrest we are currently experiencing and that my family and ancestors have been experiencing for centuries. I think about slave owners who practiced things kindness and love to people who looked like them but had no regard for African or Indigenous people and their lives. I think about people saying continue to fight against a system that continues to perpetuate and hurt you, but don't want people to march down streets and disrupt what they consider normal
It took a lot for me to write that, especially because of everything that is going on in the world. The response to that post was decent. I wasn't expecting anything from it either. I share this because you may be the person to stretch somebody's perspective. Hear me when I say, you DO NOT have to teach somebody when Google exists, but do know some people may want to learn from you. I am also glad that thee one response to my post was more positive or there would have been issues.
Download the Calm or Headspace app, drink some tea and take a nap, or sunbath in the comfort of your home
I truly believe that Black people and families experience different forms of PTSD. We have 400 years to unpack while still experiencing some form of discrimination. Sucks. But I need you to take a moment for yourself. Take a minute to block out the world. Headspace (my favorite) and Calm are great ways to start practicing mindful meditation and taking a nap, well. I've been doing that since my freshman year at UGA and have thrived more because of it. But limit that nap to an hour.
Your peace >>>> their foolishness
I promise that no person is worth your peace of mind or sanity. If you're an introvert, be an introvert. If you like to walk around with AirPods in and have jazz music playing, do you. If you have particular rituals to do your tasks, DO YOU! I have learned that micromanagement leads to annoyance and poorer performance because it really just means that people don't trust you. If you produce your work in excellence, don't worry. You're doing exactly what you are supposed to be doing. If you're like me, I leave the building when my contract time is up (because I am a teacher). I have my systems in place to give myself space and the ability to do what I need to do. You don't have to let people sit with you on your planning period or break. You can choose if you want to go to the after work choir practice. You can sit alone at the school or job events just to people watch and be in the moment. As Auntie Maxine said:
Lean into and love on your soul tribe
Whew. My people. I don't think I would have made it without them on this crazy journey. They may get on my nerves but they are the best parts of me. They keep me in check and listen to me complain enough for probably all of us. My soul tribe rejuvenates me. They make me feel brighter and stronger in my purpose. They'll always be there for the foolishness and celebrate the small wins and success. Soul tribes should make you feel stronger in who you and I am beyond glad that mine does.
In grad school, you should thrive. Thrive in the areas that push you closer to who you are supposed to be and what you are supposed to give. It won't always be pretty, but your program should be in line with the legacy and impact you want leave. We're no longer just trying to survive Grad School; we're going to THRIVE and look and feel great doing it.