Coronavirus or COVID-19 is currently the craziest pandemic that I have seen. Well, is it the only pandemic I have seen in my lifetime? I've witnessed 9/11, Katrina, a recession and the 2016 election, but Coronavirus is taking the cake for craziest things to happen. People are saying it is like the flu; however, can we be empathetic for a minute. The flu has very many protective measures in order to help others get better more quickly, but COVID-19 does not. When countries have to COMPLETELY shut down in order to tackle the problem, I would most definitely say that it is worse than the flu.
As an avid reader of the NYTimes, I keep up with many of thee COVID-19 updates as well as the many comparisons being made between country responses and plans. I have even read enough on school closures during this time to know that this aftermath is not about to be some walk in the park. I currently feel for every person finishing school at this time. Graduation season was probably one of my favorite times. As an aspiring Higher Education professional and a current teacher, I know what it looks like from the other side as well. Schools are moving to complete online instruction. Yes, that will minimize the spread amongst college campus around the nation, but what about students who may not have the most stable or healthiest at home environments? What about the resources they are losing when campus shuts down? What about the access to basic living that is provided on that campus?
In K-12 education, the dynamics are not any better. Schools are closing for weeks at a time, but what happens when we give online instruction, but families do not have internet access or enough devices to meet the academic demands of all students in the household. What about the support staff members who do not get a yearly salary? Or the school districts that are still open business as usual with over 200 people in the building?
We are living in a very strange time, yet some people are being annoying like stockpiling mounds of tissue for one person, or grabbing a million rolls of paper towels for two people. Let's not talk about the food because some of y'all will buy food just to say you have it, but it will not be stored properly, cooked correctly, saved securely or eaten within one week. Let's be very conscious of the greed and selfishness being displayed amongst thousands of people or households. There are people who are truly in need.
What can be done in the wake of Da Rona?
Clean your home one room at a time.

I am NOT talking about that nice little vacuum and pickup combo that you normally do. DEEP CLEAN THAT BAD BOY. If you are thinking to yourself, why would I do that? Well, deep cleaning might save your home from Da Rona. Someone could've been there and had it without you even knowing.

Clean your closest.

If you have clothes on clothes on clothes and don't even know what is where anymore, it's time to clean out the closest. If you have clothes with tags still on them or that you have not worn in YEARS, it's time to clean out the closest. If you have clothes that are too big or too small (if you gotta struggle too much to get into it, it's time to part), it's time to clean out the closest.
This is the perfect time to KonMari your home (if you have not heard of this, go to Netflix and watching Tidying Up with Marie Kondo).

Work on that passion project/ second stream of income.

THIS IS YOUR TIME TO SHINE! If you have been dying to learn new skills, at home jobs or jut something that makes life more interesting, this is it. This is the moment you have been waiting for. I don't care WHAT you want to do, because I know I sit on youtube and watch pimple popping videos. Everybody is posting something.

Fix your bag to get in your bag.

We will all experience a financial setback one way or another. A great way to be prepared for that is analyzing your current financial health and getting on track towards the life you want to live. To give some perspective, for one pay period, I practiced cash-only living (except for my bills that come out of my account monthly). I bought a budget notebook, kept EVERY receipt, became more conscious about what I was buying, even said no to some things I wanted to do because they were not in budget. I had a real conversation about investments and savings with one of my friends who is a Financial Planner. I got SERIOUS. At 22, I want to set the footprint for a BETTER financial life. The top 1% of my age bracket (18-26) has a NET WORTH of $80,000. Even on a teacher's salary, I am finding ways to better myself (especially since my only worry is me).

Update your LinkedIn, professional resumes and cover letters. (Self-explanatory).
Open the blinds and workout inside.

Being home on spring break took me away from Crossfit for about a week. I have done at home dance, yoga and body weight HIIT workouts to get me moving. Put on some workout clothes and get to it!
If you're a teacher and you're worrying about your students, raise your hand.
Educators, here we are. E-learning/ digital learning are about to be our best friend for the next couple of weeks. If you are worrying about students being able to retain information, there are a few things that we can do (and by we, I am including administration in this because this is far from a one person job).
Send home a suggested schedule via email and school messengers apps. No matter what age group you teach, keep the schedule about the same as possible for the students regular day schedule; this will prevent a large amount of brain dump as possible.
See if it is possible for families to pic up paper copies of materials at a quick location. If students can pick up food, allow them to pick up learning materials as well.
Send out resources. Companies are providing free hotspots and schools might be able to loan school devices. Check with your school or district to see what is available.
RELAX! I know everyone is in a frenzy, but I really just need everyone to breathe and take some moments because being freaked out and all over the place is not going to help everyone. Just think about it, the behavior you might have been experiencing and calling home about might come to life while kids are with their parents. (I know you laughed because I did).
People, unplug if you need to. Do nothing and stare out the window like dogs do. Take a nap. Pray. Meditate. Do what YOU need to do. Just don't be a jerk. Do not be racist or xenophobic. Do not be problematic in general. Mind your business and don't worry about what's going on with other folks. Millennials, I know you're over there booking flights and trip. Stop trying to go somewhere and be still. STOP BEING RUDE AND GREEDY. And for the love of Christ and all things he has made and will do, WASH YO NASTY HANDS AND COVER YOUR DOGGONE MOUTH AND NOSE.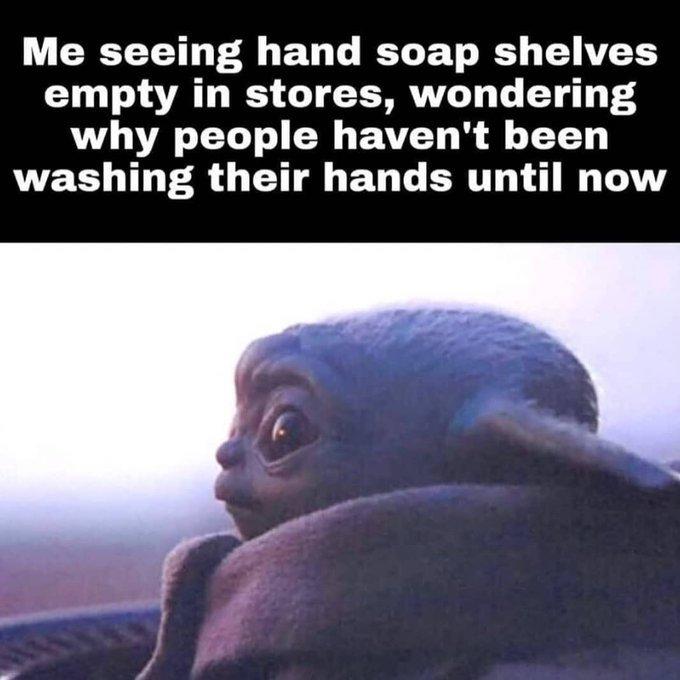 Follow the CDC and WHO Recommendations. Don't Kill Anyone on Accident by not following instructions. Thanks for coming to this week's TedTalk.
Audaciously, Alexas